De Wingerd
De Wingerd
Freinet School De Wingerd is a school like all others, yet not quite. How can a school distinguish itself in the educational landscape of Ghent? How do you provide a school with the identity it deserves? What story does the school tell and how do you make pupils knowingly choose for the school? Together with De Wingerd and the City of Ghent we set to work with the school's unique DNA and comprehensively tackled the corporate identity. More than enough reason for a sound photoshoot and a fresh social media campaign. In the director's chair and on camera button: Juul, Joppe, Hassia, Kes and Iclal, five pupils at De Wingerd. Cool / funny / interesting / top / great / chill / fun / nice, isn't it?
Become who you are

"At De Wingerd pupils are welcome to be themselves". That's one thing the pupils and teachers unanimously agreed upon during our preliminary strategic interview.

The importance of personal growth and self-fulfilment are more than just sweet words here. We called into existence the matching baseline: "Word wie je bent (become who you are)". The baseline also says that people are being incited to get to know themselves, that they don't need to become someone else, that they can be themselves and grow as themselves, in the direction they want, with a view to their own interests, etc. After all, you are a lot more than your profession and your profession doesn't necessarily define your character and passions. We rather respond to "Who do you want to be (in the future)?". That leaves more space for self-fulfilment.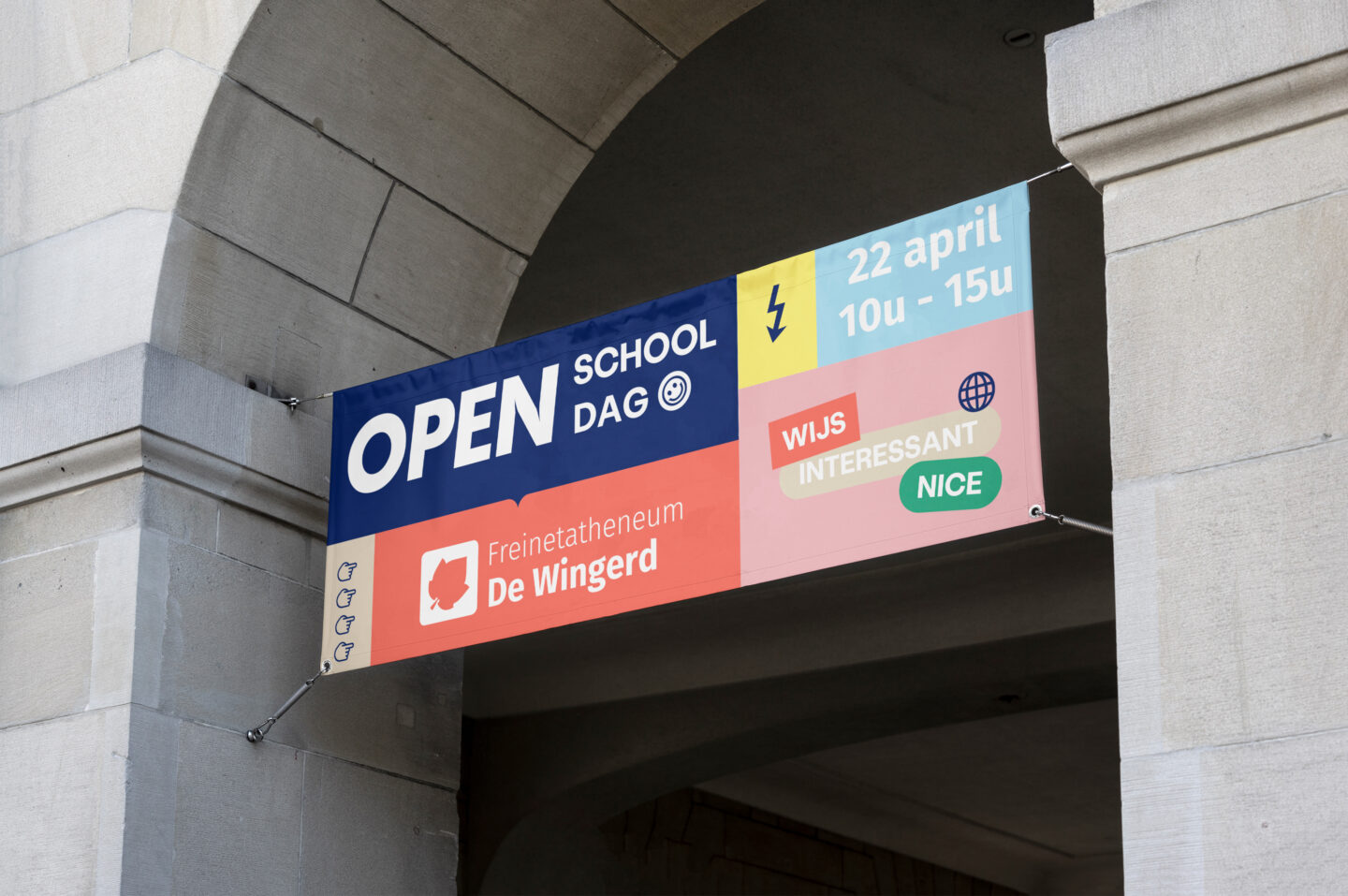 A resounding brand story and baseline come with a well-thought-out brush-up of the corporate identity. Let's go!
Pupil and teacher being on equal footing is one of this school's typical and conspicuous characteristics. As a pupil you are welcome to give your opinion at school. What's more: you are encouraged to. The labels and emojis in the corporate identity represent the pupils' participation. This way they also get a voice in the communication. The chosen labels are, of course, a selection of the pupils' favourites.
The fresh and extensive colour palette refers to the different personalities at De Wingerd. Or to say it in the words of Cyndi Lauper: everybody is allowed to show his or her true colours.
We chose a bold typography that fully supports the school's clear and open communication.
It was a no-brainer: a campaign for De Wingerd also has to be created by the pupils themselves. Through a trajectory of pupil participation, we chose the concept for this campaign.
"Become who you are." But who is that, precisely, that person who is looking back in the mirror? A fascinating question that we will ask ourselves our entire lives, but even more in our teens. What do you see in the mirror? Who do you wish to see there in the future? What are you interested in? Which topics would you walk through fire for? How do you feel today?
We selected some of De Wingerd's enthusiastic pupils who were only too eager to be in the picture for their school.
A school has to dare to think in the long term. With this corporate identity, we gave De Wingerd the tools to establish consistent internal and external communication. One that perfectly fits the school's values. Just like De Wingerd's pupils, the school is totally ready for the future!
Also in need of a complete rebranding? We are happy to work with you!